NOVITA'
Giorgio Cambissa - Orchestral works
includes 4 Orchestra concerts composed between 1952 and 1968.
Conductor Massimiliano Donninelli
Moldova State Philarmonic Orchestra
Da Vinci-Edition (Da Vinci Classics C0029)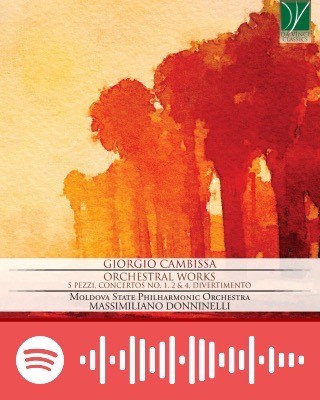 Cinque Pezzi per Orchestra
Concerto No 1 per Orchestra
Concerto No 2 per Orchestra
Concerto No 4 per Orchestra
Inoltre il Divertimento per Orchestra composto nel 1950 (solo su Spotify)
Will also be presented by
Radio 3 Primo Movimento
29th April 2020 at 9-9.30
July 9 2013, Paris
Adyar Theatre, 8:30 pm
"Omaggio a Giorgio Cambissa"
Music by Giorgio Cambissa, Giacomo Puccini, Wolfgang Amadeus Mozart, Georges Bizet.
Soloists, Brett Deubner - Viola, Elena Glazyrina - Soprano, Bel'Arte Orchestra,
Conductor, Massimiliano Donninelli
May 12-13-14 2016, Paris-Clichy
Auditorium Léo Delibes, 9pm
Music by Giorgio Cambissa, concerto for viola and orchestra, concerto breve for cello and orchestra, triplo concerto, world premiere of Wandering - concerto for piano and orchestra, Gioachino Rossini, Georges Bizet.
Orchestra Bel'Arte, soloists the winners of the international competition Giorgio Cambissa
Conductor, Massimiliano Donninelli